History
Modern Legend
This is an amazing story of one of Hung Gar's modern masters that lived to be 100 years old. Training right up to the day he died and leaving a legacy of great Hung Gar masters through his children.
Grandmaster Chiu Kao was born in 1895 in Kwantung, a child of two Chinese doctors. When he was only nine years old he went with his uncle to work in the mines in Singapore. Here he started his Hung Gar training under Wong Sai Wing, a student of Wong Fei Hung.
As a young man Chiu Kao traveled to Hong Kong to continue his training in Hung Gar under Lam Tsai Wing. With time Grandmaster Chiu Kao opened his own school in a very poor area. He was well known as a defender of the weak and earned the name "Hero of the street".
Later, during the Second World War, Chiu Kao came back to Kwantung to teach young Chinese men in the Military the fighting skills of Hung Gar, to use against the Japanese invaders. After the War he returned to Hong Kong and worked as a tailor. He also re-opened his school. He started combining weight training with Hung Gar, and the Chiu family became known as the bodybuilding Kung Fu family.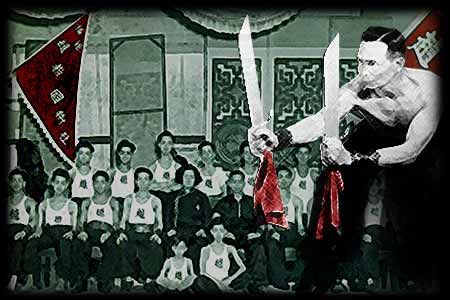 During the 1950's Chiu Kao competed in tournaments and did very well. In 1956 he won first place in a tournament organized by a Kung Fu Association in Kwantung, where he also won in weapons with the Chinese broadsword (Darn Do). In 1957 he won second place in Beijing (Peking) with the tiger/crane set; he was at that time over 60 years old.
Chiu Kao and his wife Shu Ying had five children; Chiu Lai Fong, Chiu Kim Fung, Chiu Kim Ching, Chiu Wai and Chiu Chi Ling. And in the 1970's at the age of 80, Grandmaster Chiu Kao left the teaching duties to his children. But he continued to train, practicing Tid Sin Kuen every day.
On February 20 1995 Grandmaster Chiu Kao passed away peacefully in his sleep, at the age of 100. His family continues to spread the teachings of Hung Gar to this day all over the world.
Chiu Kao was truly a legend of Hung Gar and his legacy continues through his family.